Item: No taserin' at last Saturday's demonstration against military recruiting. But I see that there were donuts, the nemesis of overzealous police officers everywhere. Get news and photos here.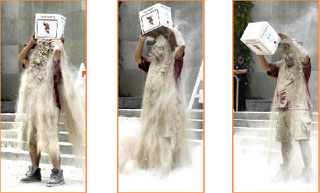 (pic of Hiroshima protest at CMU)
But there was some breaking news, I define "breaking" as the kinds of stories that corporate media either doesn't cover or cover enough to make a difference, about CMU's lucrative role in the War Machine. I found it over there at that fount of self-published useful information that is Indy Media.